We are thrilled to announce Corby Rugby Stars will be opening on Sunday 13th September!
Headed by experienced Coach James, our new Corby club will play host to a new generation of Rugby Stars.
Expect lot's of fun and silliness whilst your children's coaches take the new recruits through fun rugby-themed activities and games where they will also learn fundamental rugby skills.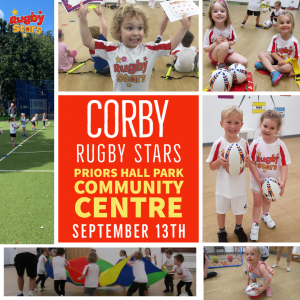 Rugby Stars is built upon 3 priorities:
Teach children the skills of Rugby
Transform children into confident team players
Have an outrageous amount of fun!
We are so excited to get going and we hope you will join us for a FREE taster session! Booking is easy and can be done online at www.rugbystars.co.uk/corby-rugby-stars or by searching from the menu at the top of the page.
Location & Times
Covid-safety
All of our classes empower children to get active, have fun whilst staying safe. Our coaches will guide you on the appropriate Covid-safety measures we have in place to keep everyone safe whilst not stopping the fun.
All of our classes are Covid-safe and work within government guidelines. All activities and games are carried out within social distancing guidelines.
For any questions, please contact Coach James at james@rugbystars.co.uk
We'll see you there!