All The Latest News From Rugby Stars – June Edition
For the eagle-eyed readers who notice this blog is long overdue, this is for very good reason! We have a big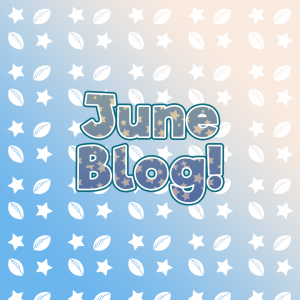 announcement in this edition so please read on to find out!
As we say goodbye to June we look forward to our 6-month anniversary with classes packed full of Rugby Stars, we have few spaces left in all of our classes and we go from strength to strength. We've seen a number of graduates, moving classes and leaving our Juniors for pastures new (hopefully in U7 tag rugby!).
We've enjoyed so many themed classes this month, including saving our seas and also supporting our Juniors to create their very own activities for their parents to try out! Our Micros are embracing the different learning challenges we face them with and our Minis are improving their balls skills every week!
We've increased our referral reward to £10 cashback to anyone who refers a child to Rugby Stars. Simply enter a friends name at checkout and we'll reward them with £10 cashback! Simple!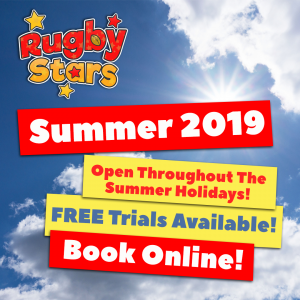 As we approach the summer holidays, our coaches will be taking a well-earned holiday to Cornwall, this means all of our classes will be closed on Sunday 21st July. Classes will resume as normal the following week and continue all throughout the holidays.
The Big Announcement
Now onto some huge news! Due to the overwhelming support and interest in Kibworth Rugby Stars we are expanding to a new location! Little Bowden Rugby Stars will be opening in Market Harborough this September! This is a fantastic opportunity for Rugby Stars to reach more children, bringing our fantastic themed classes, real rugby skills and our passionate coaches to a brand new location.
Coach James will head up our brand new club which will have all the magic of Rugby Stars in a brand new location at Little Bowden Primary School every Saturday morning.
We ask all parents to tell friends located in and near Market Harborough to come along for our open day on Saturday 31st August (referral rewards will apply!). Any Kibworth members who wish to transfer to the new club can do so for free whilst spaces are available.
We are so pleased to share this wonderful news with our readers and we look forward to meeting all the new Rugby Stars Market Harborough has to offer!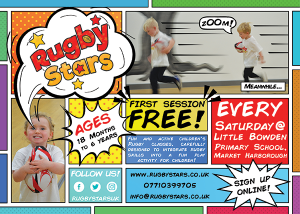 Second to this news, as of Christmas 2019 Rugby Stars will be closing for 2 weeks at Christmas and closing for 6 weeks in summer. This change will be applied to both Kibworth and Market Harborough clubs, allowing us to maintain consistent membership numbers throughout the year. Both clubs will remain open at Easter and half-term holidays.
As always, from all of us at Rugby Stars, thank you and we'll see you in class!
Coach James & Gregg